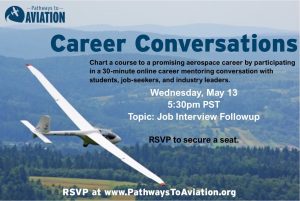 This Wednesday's online workshop will focus on ways to follow up job interviews. Whether you just interviewed for a summer or temp job or you're seeking your first career related position, there are important and courteous steps to take.
Join us Wednesday, May 13 at 5:30pm PST for our latest Career Conversations workshop. Participating on the call will be industry leaders, current students, and job seekers. To participate, you must RSVP for the event.
Go to the www.PathwaysToAviation.org main webpage, scroll down to the Events section, then click RSVP for Wednesday's event.