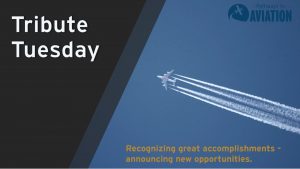 In response to the growing number of accomplishments, we may be starting a new feature here at Pathways to Aviation. For now, we'll call it Tribute Tuesday. It's an opportunity to recognize recent accomplishments, make exciting announcements, and promote upcoming events.
Accomplishments
One of our Certified Candidates landed an amazing job with one of our Sponsors.
A Candidate earned both a full scholarship to the University of Texas and the Brig. Gen. Fred Michel Scholarship, offered by Pathways to Aviation.
A Candidate earned his pilot's license.
A Candidate is now being considered for Fall 2021 enrollment by Embry-Riddle Aeronautical University.
Pathways to Aviation is now working with Candidates in 16 states and four countries.
Announcements
One of our mentors is offering an internship at the South Lake Tahoe Airport. Check your career profile or click here if you're interested.
One of our Sponsors is seeking to hire an A&P mechanic. Check your career profile or click here if you're interested.
The Air Force career program, called Pathways to Wings, is hosting an interactive brief on Wednesday, July 1 at 1:00pm CDT (11:00am PDT). Click here to register for the call.
Events
We conducted an incredible Career Conversations Workshop last week. Click here if you'd like to watch the 66-minute session.
Sign up to attend this week's Career Conversations Workshop. The topic is Resume Writing. The workshop starts at 4:00pm PDT. Click here to RSVP and receive the private link.