There are many people behind Pathways to Aviation, its programs, expansion, and success. One of them is our website developer, George Jenson.
This native of Tucson, Arizona is also a pilot, who's about ready to take the maiden voyage in a plane he just finished building. He's also very involved with the Tucson Festival of Books. As part of the event's recent virtual weekend, he interviewed Paul Dye, who worked for NASA for many years.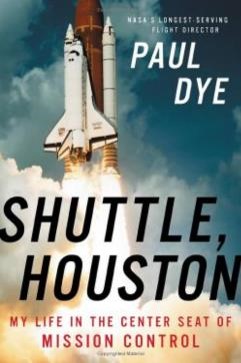 Here's a brief summary of Paul.
Paul Dye has four decades of aviation experience as an engineer, builder and pilot. He retired from NASA in 2013 as the longest-serving flight director in history and the leader of several missions. He has received a NASA Outstanding Leadership Medal, three NASA Exceptional Service Medals and a Presidential Medal.
Dye is now a leadership consultant and speaker as well as the former editor-in-chief of Kitplanes magazine. His book is "Shuttle, Houston: My Life in the Center Seat of Mission Control."
The interview, which was a live panel presentation for Tucson Festival of Books attendees on March 7, discussed Paul's book. CLICK HERE to watch the interview.
We encourage you to watch the interview, as Paul discusses traits of successful leaders, tips to working in groups, and captivating stories about his days as NASA's flight director.
George, thanks for all you do for Pathways to Aviation and the advancement of the incredible aviation and aerospace industry!