A new series of career readiness workshops has been announced. The new series launches Wednesday, May 19, when we'll review the recent Aviation Career Week.
There's a fresh twist to the new workshop series. The vast majority of workshops will be preceded by an instructional video related to each week's topic. The first half of the workshop will be spent discussing the topic to truly understand the information, tips, tricks, and resources provided. The remaining thirty minutes will feature a guest speaker, who will describe his or her career journey, current role in the industry, and career advice.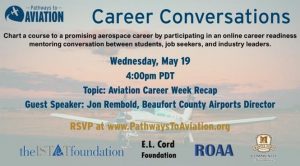 The first session, scheduled for May 19, students, job seekers, mentors, and industry leaders will assemble to identify the highlights of the fourth annual celebration of aviation careers. Then, we'll meet with Jon Rembold, who's the Airports Director for Beaufort County, located in South Carolina.
For a full listing of upcoming workshops, which take place every Wednesday at 4:00pm PDT, go to our Attend a Workshop webpage. RSVP for the workshop(s) you wish to attend.