This Wednesday's workshop will be a good one. You won't want to miss the presentation our guest speaker has prepared.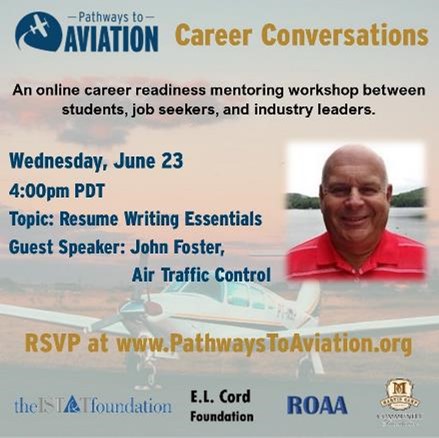 We'll begin the workshop by discussing the different ways you can make your resume far more appealing to recruiters. It's one thing to write a resume, it's another to make it so compelling that hiring professionals will reply with an invitation to interview. Watch the tips video before joining the workshop.
Control of the second half of the workshop will be given to John Foster, who spent his entire aviation career as an air traffic controller. His extensive presentation will go into detail about the career path, what controllers do on a daily basis, and career possibilities.
Details for the workshop:
Wednesday, June 23
4:00pm PDT
online Zoom session
No cost to attend
RSVP at www.PathwaysToAviation.org