The Summer 2022 issue of AviNation is hot off the press. Published by our good friend and regular workshop visitor, Jacob Peed, the magazine is dedicated to connecting youth to the amazing world of aviation.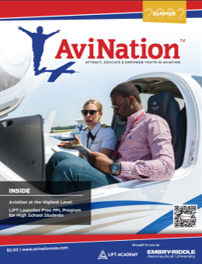 Navigate to www.avinationusa.com to find these inspiring articles in the latest issue:
Pilots, A&P Mechanics, Teamwork, and Trust
New High School Soaring Team
My "Private" Journey
Aviation at the Highest Level
LIFT Launches Free PPL Summer Program for H.S. Students
Does a career await you at Continental Aerospace Technologies?
Watching my son find a career path in life as an aircraft mechanic
MIghty in STEM Sisters
Spotlight: Lexie Hope and Emily Hope Wilson
Flying High at 23
The Desire to Fly
Q&A with Senior Meterologist Sam Sangster
My Seaplane Experience
To Infinity, and Beyond!
I Believed I Could Fly: Becoming a Pilot
Trends in Ag Aviation
A Funny Thing Happened on the Way to the Airport
CLICK HERE to access the issue,  read these great articles, and find plenty more information and resources.