Happy Thanksgiving from all of us at Pathways to Aviation.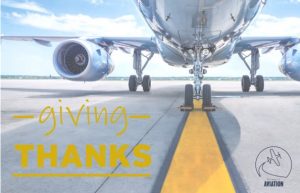 As we share our greetings, we're taking great stock in the many things of which we're appreciative. Our organization would not be able to create tremendous impact by itself. For this, we're thankful for…
Our donors who believe in our mission and endorse our vision of guiding young men and women into extraordinary aerospace industry careers.
Three incredible and supportive airports, which host our career readiness workshops and professional networking receptions. Thank you KTRK (Truckee Tahoe), KRNO (Reno-Tahoe), and KCXP (Carson).
The Pathways to Aviation Board of Trustees for recognizing the need to address the aerospace industry's workforce challenges, and adopting a program designed to prevent shortages from adversely affecting the industry.
Our new student leadership team, also known as the Flight Team, which provides invaluable feedback, ideas, and inspiration boosting our programs to new heights.
The many high school and college administrators and educators who recognize the positive influence created on students through our career mentoring program.
Our new office, which doubles as a studio to take professional headshots, conduct interviews, and record career planning videos.
The aerospace industry executives who make presentations at workshops and mentor students on their career planning journeys.
The many students who've taken advantage of our career mentoring to advance their career readiness.
The aerospace industry corporate and association leaders who routinely provide feedback on our many ideas, share suggestions of their own, and offer job and internship opportunities to our students.
Our partners who share a passion for mentoring young people and support our belief that the future growth and vibrance of the aerospace industry lies squarely on the young people we're coaching.
What would a list be without a couple thankful messages?!
"I really just appreciate that there are people willing to support and educate high school students going into a professional field. I really appreciate the fact that students have such a wonderful resource." – student
"Thank you for the opportunity to participate. I have a huge respect for what you're doing and this program." – mentor
The Pathways to Aviation future is clear for take-off, full of opportunity, and shared with many. We are so very thankful and excited about continuing this amazing journey.