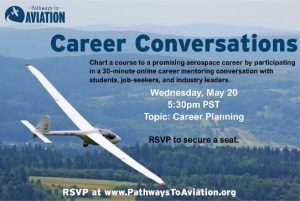 The May 20 Career Conversations will feature an open conversation about career planning.
Professionals will be asking questions of our students and job seekers who, in return, will be asking questions of our professionals.
It's an opportunity to learn more about career planning, what challenges face job seekers, difficulties employers find when seeking new hires, issues arising from the COVID-19 pandemic, and more.
Join the conversation and ask questions of your own. You must RSVP to participate in the workshop. Head to the main page of our website, scroll down to Events, and click the May 20 Career Conversations. The workshop starts at 5:30pm PST and will likely last 45 minutes.