We're celebrating our third annual Pathways to Aviation Career Week next week. It's a celebration of aerospace and aviation careers, taking off on Monday and landing on Friday afternoon. The week's activities will feature social media messages about job searching tips, job postings, employer spotlights, and more.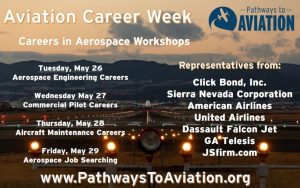 The big highlight for the week will be the Career Conversations workshops. We're taking this weekly online workshop and conducting one each day from Tuesday through Friday. The first three will focus on careers in a specific area and Friday's version will talk about looking for jobs in aviation. Here's the schedule:
Tuesday, May 26 – Aerospace Engineering Careers – panelists represent Click Bond, Inc. and Sierra Nevada Corporation.
Wednesday, May 27 – Commercial Pilot Careers – panelists represent American Airlines and United Airlines.
Thursday, May 28 – Aircraft Maintenance Careers – panelists represent Dassault Falcon Jet and GA Telesis.
Friday, May 29 – Aerospace Job Searching – a discussion with our friends at JSfirm.com
Each workshop takes place at 2:00pm PST. RSVP on the www.PathwaysToAviation.org main webpage to attend. A unique link will automatically be sent to you.