Pathways to Aviation is launching a six-part career mentoring online workshop series for students and job seekers on Wednesday, January 13. High school and college students, as well as anyone interested in seeking great careers are invited to attend the Zoom workshops. Each hourlong session begins at 4:00pm PST and is free of charge.
One way great jobs are found is by knowing people and, just as important, them knowing you. Over a six week period, students and job seekers will watch videos to learn about various networking techniques. Each Wednesday, they'll participate in conversations with industry leaders and recruiters to enhance their networking skills.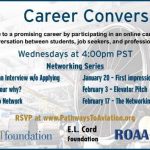 The schedule is as follows:
January 13 – Landing an Interview without Applying
January 20 – First impressions and body language
January 27 – What's your why?
February 3 – Elevator Pitch
February 10 – Where to Network
February 17 – The Networking Experience
The series is dedicated to coaching students and job seekers to effectively and confidently articulate their skills, interests, experiences, and aspirations in a verbal manner. They'll learn how to deliver compelling descriptions when participating in in-person and video conversations.
There's no cost to attend the workshops, but attendees must RSVP in advance. Details are found at www.PathwaysToAviation.org.