Promote your business in our 2021/2022 Career Planning Workbook!
The 2021/2022 version of the Pathways to Aviation Career Planning Workbook is currently in development.
For the first time, sponsors will be promoted in the workbook through quarter,half, and full-page promotions. It presents a great way to brand the company, its hiring practices, and careers and open positions webpages.
The workbook will be distributed to:
All students and job seekers registered in our Career Ready Portal.
All students, job seekers, and educators attending our weekly workshops and weeklong celebrations.
All 400+ high schools and colleges in our network.
All interested schools, educators, students, and job seekers.
Total anticipated distribution is 10,000 schools, students and active job seekers.
The workbook's features provide students and job seekers with vital information when navigating toward aviation careers.
Aviation and aerospace salary tables.
Roster of post-secondary schools offering aviation and aerospace programs.
List of available scholarships.
Career readiness tips and instructional videos.
List of Fall/Winter weekly workshops.
Sponsor logos, websites, and messages.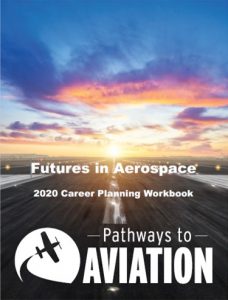 This is the first time we're featuring sponsor branding.
Click here to view our 2020 Career Planning Workbook.
Sponsor by September 30 to be included. Anticipated release date is October 11, 2021.